The Adobe Flash Player is required to watch videos on this page
Siahlaw
At-a-Glance
Hometown
New Bedford , MA
Genres
Hip_Hop, Urban
Band Members
Siahlaw
Upcoming Shows
Artist / Band Member: James E. Stringer AKA Siahlaw simillionz@gmail.com (508) 287-5117; Other: Randy Seymour RanSeymour@gmail.com (781) 838-0303; Label: Melissa Renee' bossladyent@gmail.com (626) 765-1163
One-Sheet
# Years Experience Performing Live:
13
# Live Perfomances Past Six-months:
11
Market Draw:
home market : 76-100; Atlanta : 31-50; Biloxi Mississippi : 76-100
Venue History:
Club Passion - Providence , RI; Club Skyroom - New Bedford, MA; Jovans Night Club - Providence, RI; Euphoria Lounge - New Bedford , MA; Club Carivan - Revere , MA; Mississippi Coast Coliseum - Biloxi, MS; Pufferbellies - Hyannis Ma - Hyannis, MA; Whiplash - Stoughton, MA; Church - Boston, MA
Opener Experience:
50 Cent ; Mobb Deep; Styles P Of The Lox; French Montana; Bobby Valentino; Ryan Leslie; Jim Jones; Araab Muzik; Vado; Yo Gotti; Plies; Fabolous; Waka Flocka Flame
Similar Artists:
Fabolous; Jay Z
Performing Rights Society:
ASCAP
Discography:
No More Mister Nice Guy LP—2010; Death Of A D Boy LP—2010
About the Artist
As a fixture in the New England rap scene, James E. Stringer a.k.a Siahlaw has garnered respect for his talents as a wordsmith. His love for hip hop was inspired by the the greats such as Rakim, Nas, and Run-DMC. Siahlaw's dedication to his craft is evident and his attention to detail shines through out as he paints a vivid picture of the grim reality of his life. While Growing up in New Bedford Massachusetts, Siahlaw would engage in rap battles around the neighborhood making quick work of his opponents and soon after would develop his song writing abilities as an artist. After serving a two year prison sentence Siahlaw released "It's The Real Me Vol 1" and "No More Mister Nice Guy". He is devoted to his music and will soon reach the top.
Technical Requirements:
Two hours for load-in and rehearsal. A suitable sound system pa with 20 amp circuits on stage for various instruments including a dj rig. Stage monitors, eight channel stage snake and small mixing console with a cd player and or iPod connection. Wireless microphones are preferred but Shure Sm58s will be fine. Very little reverb and delay on Siahlaw's vocals. Well lit stage with very little strobe effect for the show. Lighting should consist of intelligent spots and wash lights. Par cans with blue gels and a fog machine if the venue allows it. Dressing room. Thank you.
Stage Plot: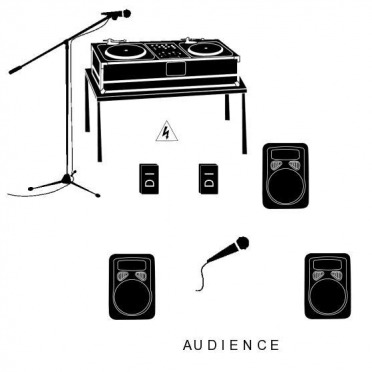 Press Coverage
City by City Tour & Party Promo
by