The Adobe Flash Player is required to watch videos on this page
Reyna
At-a-Glance
Hometown
Brookfield, WI
Genres
Indie Rock, Indie Pop
Band Members
Victoriah - guitar, keys, vocals; Gaby - Bass, keys, vocals; Jesus Nanez - drums
Upcoming Shows
Artist / Band Member: Victoriah Banuelos victoriah.ban@gmail.com 262-373-0979
One-Sheet
# Years Experience Performing Live:
1
# Live Perfomances Past Six-months:
15
Market Draw:
Summerfest : 76-100; The Rave : 76-100
Venue History:
The Rave - Millwaukee, WI; The Highbury Pub - Milwaukee, WI; Summerfest - Milwaukee, WI; Stonefly Brewing Company - Milwaukee, WI; sausage haus miller park - milwaukee, wi; Cactus Club - Milwaukee, WI
Opener Experience:
DEDE ; Natalia LaFourcade
Similar Artists:
tegan and sara
Performing Rights Society:
BMI
Discography:
So Long So Tired Single—2011; Little Step  Single—2010
About the Artist
Vic and Gab, song writing sister duo whose childhood hobbies in music have become their passion in life. Their music lingers in a mix of indie pop/rock genre with sweet harmonies, hooky bass and guitar lines that reflect their musical influences. Victoriah and Hannah Gabriela, began their musical journey at age 11, by their teens they had developed a compilation of songs written during their high school years. Heavily influenced by the music their father played when they were kids, Vic and Gab have found their own style and unique sound. Bands such as Rush, Supertramp, The Cars, and The Police to name a few have made an impact on the girls. No strangers to the stage, Vic and Gab have performed in coffee shops/clubs and recently performed at Summerfest 2011. Their original song, So Long So Tired was featured on MTV SKINS episode 6.
Technical Requirements:
standard 
Stage Plot: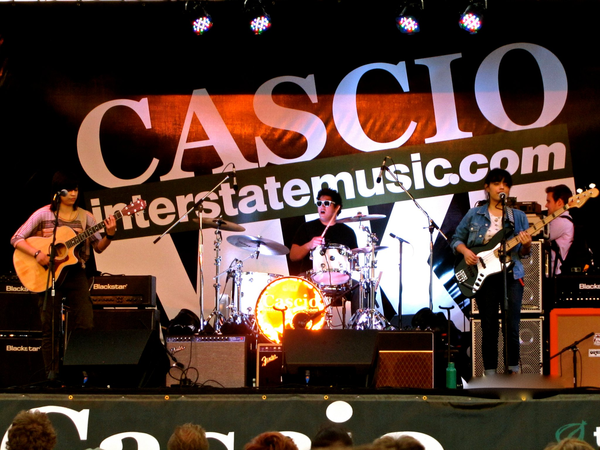 Achievements
Press Coverage
Radio Interview
by
WMSE 91.7 f.m. @ The Girlina Show with DoriPromote World Rock Sessions Series at The Highbury Pub in Milwaukee, Wisconsin.