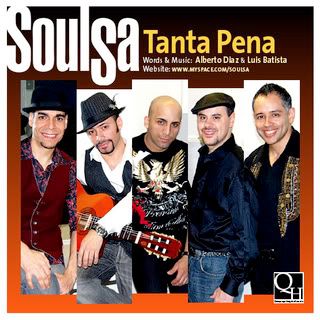 What's up mi gente! Welcome to SOULSA's page!
Feel free to check out some of our other songs here.
Want some FREE mp3's of our songs?  Send us an E-mail and say which song you'd like and we'll send it your way

Thanks for passing by and please don't forget to VOTE FOR US! 

Abrazos,
-Soulsa
BIOGRAPHY:
SOULSA is a an unsigned Latin band that does a modern fusion of Caribbean rhythms and modern rock music.
The group was formed in Washington Heights, a New York City neighborhood known for embracing Latin music and its culture. The band combines elements of Afro-Caribbean percussion with acoustic and electric guitars to create fresh and exciting sound.
Soulsa's essence comes from its original compositions. Songwriters Alberto Diaz and Luis Batista are known for creating sophisticated and humorous songs that reflect the daily lives, struggles and triumphs of Latinos.
Soulsa has played a variety of venues through out New York including Nuyorican Poets Café, China Club, Southpaw and Gonzalez & Gonzalez. The band received national recognition when they performed for Telemundo's "Hoy en la Mañanita" and in 2007 was invited to Finland as a headliner to perform at their 10th annual Latin Music Festival "Frutas Tropicales". Soulsa's music has also been played in the TV shows "Mind of Mencia" and The Travel Channel's "Man vs. Food". Their original song "Elena" was featured in the inde film "Entre Nos".
_____________________________________________________________
SHOUT OUTS!!!
*A big thank you to everyone at Ourstage and Intel for voting us as a finalist in the "Intel Superstars" Latin song competition!
*Another big thank you to everyone that voted for our song "Elena" to the #1 spot on the Latin Channel! You guys rock!
Abrazos!
-Soulsa
_____________________________________________________________
¡Saludos y gracias por visitar nuestra pagina aqui en Ourstage!
BIOGRAFÍA:
SOULSA es un grupo independiente Latino compuesto por cinco neuyorquinos de distintos ambientes musicales. El grupo trae una nueva mezcla del rock y los ritmos Caribeños.
El grupo se formó en Washington Heights, un barrio reconocido por su apoyo a la música Latina. Soulsa contiene toda la energía de un grupo rockero combinado con los ritmos caribeños de la salsa. Esto es algo que fascina al público, tanto al Latino como el anglo. La ausencia de piano y vientos logra darle un sonido diferente y menos tradicional al grupo, mientras que la guitarra le da un toque rockero. El grupo se enorgullece en brindar algo diferente y nuevo al público y se dedica totalmente al desarrollo de sus canciones originales.
Soulsa se ha presentado en varios clubs de la ciudad de Nueva York como el Nuyorican China Club, Nuyorican Poets Cafe, D'Antigua, y Gonzalez & Gonzalez. En el 2007, el grupo viajo a Finladia donde tocaron un concierto de 2 horas como artistas invitados del festival Latino, "Frutas Tropicales 2007". Ultimamente, las canciones de Soulsa han sido incluidas en los programas de television "Mind of Mencia", "Man vs. Food" y en la pelicula independiente "Entre Nos"